***Just to start off with, I sincerely apologise for my lack of posts recently – I have been quite overwhelmed with some personal issues as well as exam stress, but I'm back again!***
Being a medic at one of the UK's top universities, the competition to do extremely well in everything I attempt to has unintentionally become quite destructive to my mental health. And it's not only me – my peers and colleagues at medical school are most definitely guilty of having perfectionist personalities, having all attained full sets of perfect A* grades in their exams prior to coming to medical school. It's because getting into medical school is such a difficult feat that participating in the competition to get a place shapes you into becoming unrealistically high-achievers.
Don't get me wrong – there is nothing wrong with being a high-achiever. In fact, it is extremely admirable because so few people have the determination to do well and keep pursuing their ambitions. But there is a fine line between pushing yourself towards your goals and beating yourself up for not achieving an unrealistic target. And that's what I wanted to talk about today – the 'imperfection' of perfectionism.
Perfectionism is defined as the 'refusal to accept any standard short of perfection'. This could be with regards to any aspect of life, be it grades and academics, the way you tidy your clothes or the way your body looks. Though it is probably not completely environmentally caused, there is a significant amount of external influence in setting up these mindsets amongst ourselves. From parental influence, to peer pressure and social media, the journey to achieve perfection can become an obsession.
But why is it a bad thing? Surely if you have A*s in all your exams, are meticulously organised and can brag about a size zero body, you'd be the happiest person in the world, right? Wrong. Here's a diagram to help explain what happens to perfectionists: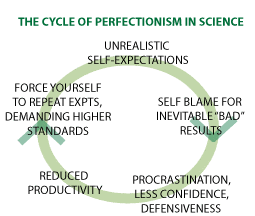 When our goals are attainable, perfectionism isn't so much of a problem. For example, if I wanted to go up a grade in a subject in a year's time, that might be a realistic goal provided I put in the work. When our goals are unattainable however, or just unrealistic given the timescale and effort we are able to give, perfectionism can make us criticise ourselves for not having achieved what we wanted to. As the cycle above shows, when an unrealistic self-expectation is not achieved, we fall into a spiral of self-blame which reduces our motivation (as we start asking ourselves "what's the point of trying if I can't do well?") and therefore our productivity. After a while, we set ourselves another set of unrealistic goals towards which we start forcing ourselves to work, and the cycle goes on.
I never really thought much of my perfectionist nature until I got to medical school. It never really did me any harm before because, as obnoxious as it may sound, I managed to achieve the goals I set myself with regards to academics. I had perfect grades and got into all the medical schools I applied to. In short, I hadn't really experienced "failure". When you get to medical school, the cohort of students you are 'competing against' in the end of year exams are incredibly intelligent with an average IQ far exceeding the norm. In conditions like these, it is almost impossible for most students to achieve the >95% they expect of themselves in the exams. I went from getting these high grades in school and sixth form to just about scraping a 40% pass in my exams. Whilst many might say that it's not too much of a big deal since I did manage to pass, there was no way I could convince myself that it was good enough. And I am not alone in feeling this way – the majority of students in medical school experience the same drop in grades. And it does damage our self-esteems.
For me, the external influence was always my parents. Being of Asian origin, I had the stereotypical parents who would scold me for "only getting 98% in my maths test" whilst growing up. But once I got into medical school, they became incredibly relaxed and told me that I didn't need to worry about my grades anymore, and if I failed an exam I could always re-sit it in the summer. Whilst this was a strange feeling and should have liberated me, I was so habituated to getting 100% that I couldn't cope with the idea of not being the best. So when I didn't do as well as I wanted to, I felt really really useless. I felt as if I wasn't good enough for medical school (even though I did get a comfortable pass) and that there was no point in me trying. In short, it made me extremely unhappy.
It was from then on that I realised that I needed to stop trying to be perfect all the time and be happy with trying my best, because that's all I could really do. So instead of shutting myself up and constantly working, I decided to lay back a bit more and enjoy myself. It's all about finding the right balance and not comparing yourself to the people around you because we're all different. Sure, it takes a long time to mentally accept that, but when you do, you really do find happiness in yourself.
So let's stop pursuing perfection, when there really isn't anything perfect about it to begin with.